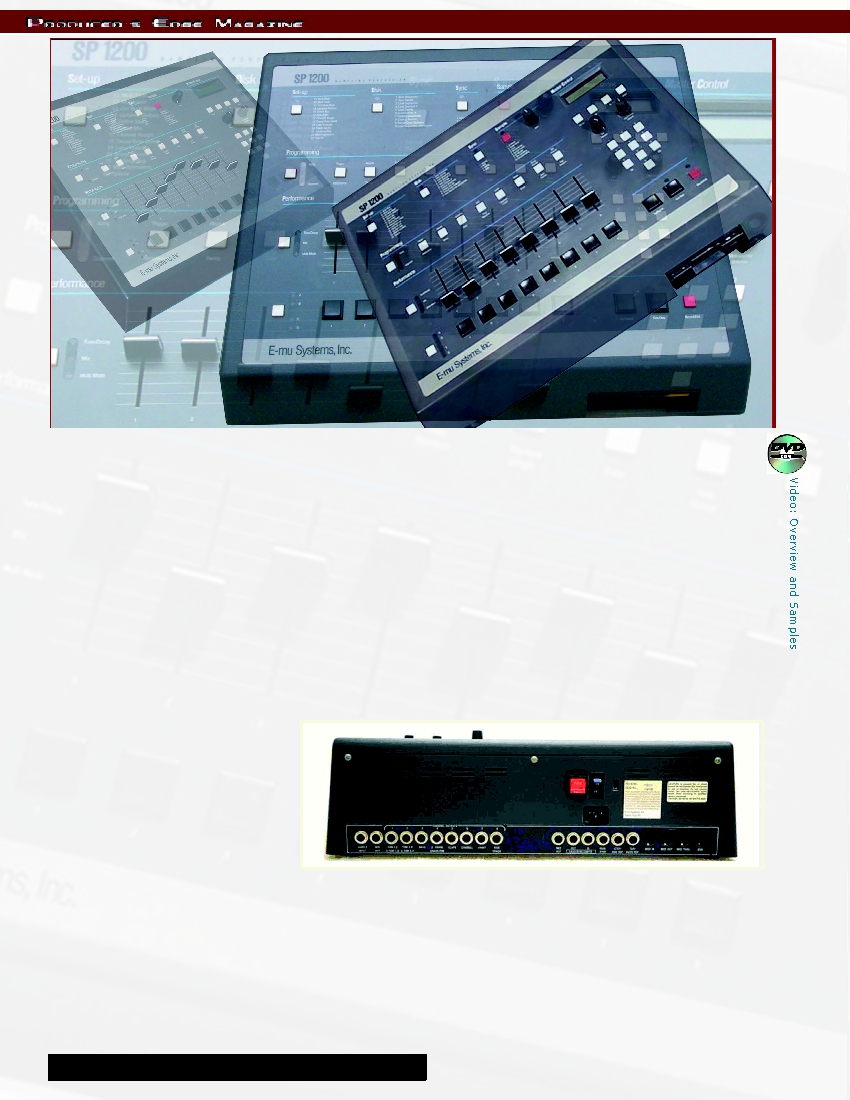 52 Producer's Edge Magazine Fall Winter 08
THE EMU SP-1200 REVISITED
t is hard to overstate the impact
that the SP-1200 has had on
hip-hop production. It has inspired
countless classic albums, it was
THE go-to machine for a great
many "Golden Era" legends and
there is a good chance that if you
make hip hop beats you owe at
least a little bit of your style and/or
a few of your tricks to this little Gray
box. This edition of Vintage Series
will explore the SP-1200 and its
contributions to hip-hop production.
We will also examine how this piece
might fit into the modern studio.
Finally we will address the tortuous
rumors of an updated SP-1200
(usually known as the SP-1600 or
First, let's set the stage. It's the
summer 1987 and if you make beats
there are not a lot of options if you
want to build sample based tracks. You
have the uber expensive and hard to
find Farilight CMI series but they are
incredibly bulky and you don't have
Peter Gabriel money so forget that.
The Casio SK-1 is at the other end
of the spectrum but its specifications
make it feel like a toy. Its sample "engine" offers 1.4 seconds of sample time at
9.38 kHz. It has no midi, no effects, and did I mention that its memory is volatile
(i.e. your lose you work when you turn it off). Moving right along, you have the
Sequential Circuits 440. Now we are talking. Its got a 12 bit, 8 voice sampler and
a relatively full functioned sequencer. It will hold 50,000 notes across 8 tracks and
has adjustable swing (50 - 75%). To top is all off it has a SCSI port so you can
transfer data between machines. You are sold, right. Wrong! It only has 512kb of
memory and it costs 5 grand! Besides, you just heard that Sequential Circuits is
about to go bankrupt so why hitch to a sinking ship. Finally, the Emu SP12 looks
nice but even the turbo model only has 5 seconds of sample time and the even
though you have heard great things about the sequencer and you have a feeling
those 5.25 disks are on the way out, so no thanks.
<Cue Dramatic String Sample>
Its game over! This beast has 10 seconds of 12 bit sample time at 26,040hz (albeit
in 4 chunks of 2.5 seconds), 32 user sample slots, a flexible 5000 note sequencer
with input quantization, midi in/out/thru connections, smpte sync, analog filters,
and 8 individual ¼ inch outputs so you can break things out on a mixing board. To
top it off you can save everything to 3.5 floppies! Now you have a self-contained
way to sample, sequence, mix and save your tracks. Then you realize this thing
is just small enough to take with you just about anywhere which means you will